In this minecraft crafting tutorial we will try to explain how to use crafting items for crafting Other recipes in minecraft game. 
To create something with Other crafting items in your Minecraft World, you must use crafting items from your inventory on crafting grid.
Let's start to discover Other crafting items now.
Bowl
Wooden Planks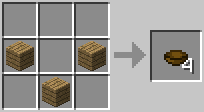 Holds Mushroom Stew.
Mushroom Stew
Bowl & Red Mushroom & Brown Mushroom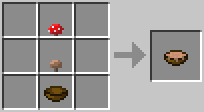 Restores 4 hunger points.
Bread
Wheat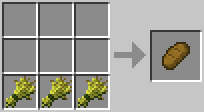 Restores 2.5 hunger points.
Golden Apple
Apple & Gold Nuggets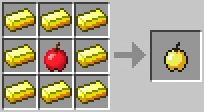 Restores 2 hunger points.
Enchanted Golden Apple
Apple & Gold Blocks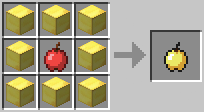 Restores 2 hunger points. Also gives resistance and fire resistance for 30 seconds.
Sugar
Sugar Cane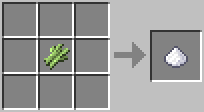 Used to create Cake.
Cake
Milk Buckets & Sugar & Wheat & Egg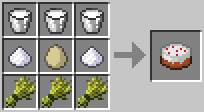 Heals 1.5 hunger points per use for a total of 6 uses.
Cookies
Wheat & Cocoa Beans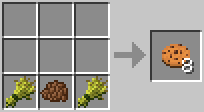 Restores 1 hunger point.
Melon Block
Melon Slice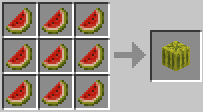 Method for storing melon slices.
Melon Seeds
Melon Slice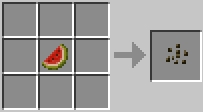 Can be planted on farmland.
Pumpkin Seeds
Pumpkin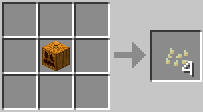 Can be planted on farmland.
Golden Carrot
Carrot & Gold Nuggets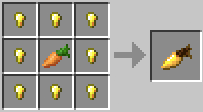 Used as a brewing ingredient and restores 3 hunger points.
Pumpkin Pie
Pumpkin & Egg & Sugar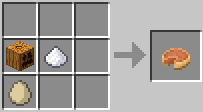 Restores 4 hunger points.
Rabbit Stew
Mushroom & Bowl & Cooked Rabbit & Carrot & Baked Potato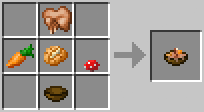 Restores 10 hunger points.
Yes, we did take a look for Other crafting items in minecraft. If you wish to look for our other tutorials, please use our minecraftcrafting.online site navigation.

Also you can install our application Guidecraft on the "Google Play Store" as free.
With our mobile application, you can access the crafting table, minecraft server list and awesome recipes for creating something in minecraft.